Mobile Phlebotomy Services selected for 2018 Fort Lauderdale Small Business Excellence Award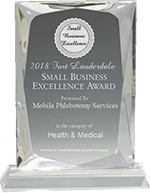 Fort Lauderdale,FL – 11/7/2018 — Mobile Phlebotomy Services has been selected for the 2018 Fort Lauderdale Small Business Excellence Award in the Health & Medical classification by the Fort Lauderdale Small Business Excellence Award Program.
Various sources of information were gathered and analyzed to choose the winners in each category. The 2018 Fort Lauderdale Small Business Excellence Award Program focuses on quality, not quantity. Winners are determined based on the information gathered both internally by the Fort Lauderdale Small Business Excellence Award Program and data provided by third parties.
About the Fort Lauderdale Small Business Excellence Awards Program
The Fort Lauderdale Small Business Excellence Awards recognizes outstanding small businesses that serve the Fort Lauderdale area. Each year, our selection committee identifies businesses that we believe have achieved outstanding marketing success in their local community and business classification.
Recognition is given to those companies that have shown the ability to use their best practices and implemented programs to generate competitive advantages and long-term value. These are small businesses that enhance the positive image of small business through service to their customers and our community. These exceptional companies help make the Fort Lauderdale area a vibrant and vital place to live.
The Fort Lauderdale Small Business Excellence Awards was established to reward the best of small businesses in Fort Lauderdale. Our organization works exclusively with local business owners, trade groups, professional associations and other business advertising and marketing groups. Our mission is to award the small business community's contributions to the U.S. economy.
SOURCE:
Fort Lauderdale Small Business Excellence Award Program
CONTACT:
Fort Lauderdale Small Business Excellence Award Program
Email: PublicRelations@SmallBusinessExcellence.email
URL: http://www.SmallBusinessExcellence.org://www.SmallBusinessExcellence.org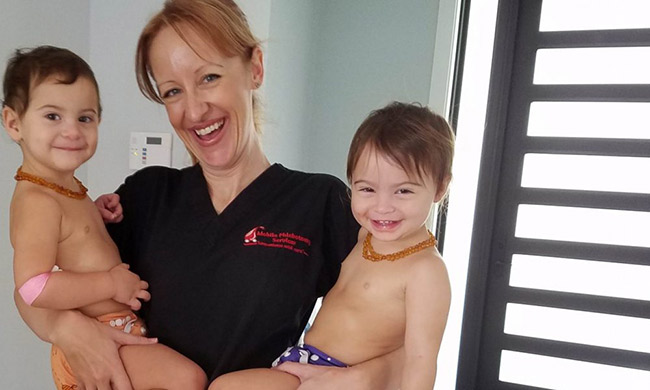 Today we'd like to introduce you to Heather Basagoitia.
Thanks for sharing your story with us Heather. So, let's start at the beginning and we can move on from there.
I have been a part of the medical field for 16 years. I am a California girl that planted roots in South Florida in 2003. I received certification in Medical Assisting and Phlebotomy in 2001.
Anyone that knows me well knows what an accomplishment that was for me due to the fact that I have a needle phobia. I spent the next 11 years gaining any experience possible. I worked for many different types of doctors, Holy Cross Hospital, Tri-Counties Blood Bank and small local labs. During those years I slowly realized that I wanted to be my own boss and bring something new into the medical field. The last lab I worked for would receive multiple phone calls regarding home blood draws. After much research I found that Mobile Phlebotomy was far and few in the state of Florida. After a little more research and a reading of the book titled "I Moved Your Cheese" by Deepak Malhotra. Mobile Phlebotomy Services of Florida was born in October of 2012. I jumped in with both feet and never looked back. I had no idea what direction the business was going to take me, but I was confident with the talent I was given. My first success was landing a contract with The Center for Forensic Science Research and Education. I was contracted to draw blood on volunteers headed in to the popular Ultra concert that happens annually. My second success was when I was contacted by a well-known doctor that specializes in Autism, Dr. Brian Udell, asking if I could provide my services to his pediatric patients. Word travels very fast in the autism community. I currently service about 500 clients on my own with 80% of my patients being Autistic. I have found what I absolutely love to do. It is my calling and it is extremely rewarding in many aspects of my life.
Has it been a smooth road?
The fact that I have never taken a business class in my life, was a huge struggle in the beginning. Many long days and nights studying and reading.
I have learned that what brings me the most success is when I step out of my comfort zone. It is not always easy but is necessary to continue to grow and learn.
Drawing pediatrics was definitely a struggle in the beginning as I had avoided drawing children since the day I became certified. Don't get me wrong, I love children. I just do not like the idea of being the one to make them cry. Also, let's face it, kids are hard to draw! Today, I joke of the sleepless nights I had, prior to scheduled appointments for babies. After a few pediatric draws I realized I had a niche for it and carried on with less sleepless nights.
Being your own boss is probably the biggest struggle. I have literally put blood, sweat and tears into the business. I feel that some might think that being your own boss means sitting at the beach with a lap top in your lap. For me it means long 12-hour days and a view of the beach driving to my patient's house if I am lucky. Determination and organization is key. However, having the amazing patients that I do, it makes me feel like I am just catching up with old friends on a daily basis.
To read Heather's full interview with VoyageMIA, click here.